Níže naleznete slidy z přednášky "Channeling a rozšířené vědomí" podané 16.4.2011 na Točné v rámci Kognitivního symposionu.

V článku neshrnu vše, takže nejlépe pokud vás daná tématika zajímá, si proklikáte i prezentaci.
Channeling je v zásadě hodně riskantní způsob získání informací, protože kromě zkreslení z tohoto kanálu zde máte i zkreslení osob, které channelují. Channeling je vystaven tak jak pozitivním, tak i negativním bytostem a kvalita a úroveň materiálu z této metody se tak různě liší, hlavně podle přesvědčení osob/skupiny, která přenos zahájila.
Co je channeling
Pravdou je, že channeling je jen pěkné slůvko pro posedlost, a lidé by toto měli mít na mysli, jako možné riziko. V duchovním slova smyslu je posednutí stejné, jako být znásilněn.
Někteří výzkumníci vnímají channeling ještě šířeji, než jako vyloženě "tranzový channeling", ze kterého pochází třeba Zákon jednoty. Když se soustředíme na definici, která řeší jenom to, že je původ informací odněkud externí, nebo vzdálený "normálnímu" vědomí, můžeme tam zařadit i intuici.
Obvykle se ale channelingem myslí skutečně telepatický přenos informací, ať už je autorem "Vyšší já", nebo vyloženě entita externí entita, ať už pozitivní, nebo negativní, která má nad tělem větší, či menší kontrolu, podle samotné síly a stádia channelingu. Jak píše Helfrich:
Channeling zahrnuje široké spektrum fenoménu roztříštění osobnosti od přímého já, které je vědomé "druhotného" kreativního zdroje, až po znaky automatického nahrazení druhým já s unikátními kognitivními, citovými, morálními a interpersonálními znaky a vzpomínkami. V této silné podobě pak primární já má malou, nebo žádnou paměť na události, které se staly (amnésie). (Helfrich, 2009, p.146)
Samotný channeler (médium) tak předává informaci (podle slovníku cizích slov je médium osoba zprostředkující spiritistickou informaci). V tomto kontextu se však pracovalo, hlavně v období spiritismu s duchy zemřelých, v moderním pojetí se pracuje hlavně s bytostmi z "vyšších úrovní vědomí".

Termín channeling … je současný, ale tento postup se nazýval věštěním, proroctvím, zjevením, duchovní komunikací, posedlostí a inspirací múzou. Biblická tradice v judaismu a křesťanství říká, že proroci obdrželi a mluvili slovo Boží. Dnes je zde mnoho jednotlivců, kteří mluví slova, o kterých se říká, že přicházejí od beztělesných učitelů na jiných úrovních reality. Proces, ačkoliv ne nutně obsah, se zdá být stejným.
Channeling jako moderní fenomén
Podíváme se krátce na dva příklady channelerů - Jane Roberts a Carlu Rueckert.
Jane Roberts
1929-1984

Carla Rueckert
1943-2015

Sethovy promluvy - vydány respektovaným nakladatelstvím

Ra material - později nazvané jako Law of One
Dimenze Seth a Ra - skoro stejné
Když porovnáme mezi oběma materiály jejich vysvětlování různých dimenzí (úrovní), najdeme mnoho společných znaků. Následující přehled je takovým volným splynutím:
(Vědomění) Země nebo přímo fyzické tělo nebo elementy.
(Růst) Růst a vývoj bez uvědomění sebe sama, "zvířecí" vědomí.
(Volba) Uvědomělé já, úroveň strastí, volba k službě sobě nebo ostatním.
(Láska) Úroveň lásky. Bez vyhledávání moudrosti nebo jejího rozvoje.
(Světlo) Světlo a moudrost, ale nesjednoceno s láskou.
(Jednota) Rovnováha mezi moudrostí a láskou. Zákon jednoho. Soucitná moudrost.
(Brána) Posvátná povaha všech věcí je realizována a otevřena brána k návratu do Jednoty. Ra: žádná paměť, žádná identita, žádná minulost nebo budoucnost, ale existence ve všem.
Rozdělení channelingu (taxomonie)
Podle vůle

Spontánní
Záměrná

Podle sféry "manifestace"

Duševní (vedení, růst)
Fyzické (komunikace, malování, hudba)

Podle síly projevu osobnosti

Entitní (silné rozštěpení osobnosti, druhotné přímé já)
Otevřené (mírné rozštěpení, posílená kreativita)
Různé typy channelingu v širším pojetí
Vědomé
Telepatie
Clairaudience
Clairvoyance
Clairsentience
Nevědomé
Spánek a sny
Symbolický jazyk
Řešení problémů během spánku
Sny a "vnuknutí" cizích myšlenek

Automismus (automism)
Varianta vědomého, ale zahrnuje kinestetické vyjádření skrze automatické psaní, desku Ouija, nebo pohyb kyvadla

Podle Klimo, Channeling research: A Progress report with recommmendations, str. 894-904), Proceedings of the International Conference on Paranormal Research, 1988.
Zdroj přenosu
Higher Self (Vyšší já)
Duchové zemřelých lidí
Minulé životy
Vyspělé lidské bytosti

Povznesení lidé, vyspělí duchovní učitelé

Kolektivní vědomí

Skupinová vědomí
Akašické, kolektivní nevědomí

Nelidé

Elementály
Zvířata a rostliny
"Mimozemšťané"
Duchovní bytosti, andělé, démoni, …
Bůh, božstva
Patrně nejběžnějším zdrojem, minimálně při spiritistických seancích, ale i při mnoha výzkumech např. u G. Schwartze, se stávají duchové zemřelých lidí. Patrně nejsilnější případ pro ověření, protože některé informace, které jsou médii předané, jsou tak osobního rázu, že je nepravděpodobná možnost konvenčního posbírání takové informace. Takových případů je zaznamenáno mnoho, ale zdroj, ten může být úplně jiný. Tak či tak, historicky jsou duchové zemřelých lidí nejlépe ustanoveny.
Minulé životy – hlavně skrze hypnózu, nebo raději regresní terapii se přistupuje k záznamům z údajných minulých životů. Tato problematika by patrně byla na delší rozebrání, prozatím se spokojme s tvrzením, že tyto zdroje většinou nelze ověřovat, i když zde byl celkem slibný výzkum od Iana Stevensona, který experimentálně ověřoval některé tvrzení od malých dětí po celém světě a některé z nich se mu povedlo ověřit (reinkarnace?).
Častým údajným zdrojem jsou vyspělé lidské bytosti, povznesení duchovní mistři, Ježíš, Mohamed, apod. U historických figur tento zdroj bývá také velmi špatně ověřitelný, i když je zde prostor pro spojení našeho tradičního poznání historie s pohledem oné entity, a proto se někdy tyto zdroje dle mého názoru dají ověřovat dobře, i když např. podle Sagana mnoho z nich obsahuje jen banální materiál.
Dále jsou zde kolektivní vědomí, ať už několika nelidských entit, nebo kombinace mnoha vědomí a prezentace nějaké výsledné entity. Také se hovoří o Akašické paměťové bance, což je esoterický koncept, který by měl obsahovat záznamy všeho, co se stalo. Podobné může být i Jungovo kolektivní nevědomí, anebo jakési metafyzické místo, kde myšlenky a skutky všech lidí jsou uchovávány.
Neméně zajímavá je sekce nelidí, kde kromě klasických mimozemšťanů a duchovních bytostí a Boha (nebo Bohů) se vzácně objevují i channelingy živlů, ale např. Barbara Rollinson-Huss a Joan Ocean jsou jenom dvojicí z dvou tuctů současných channelerů, kteří tvrdí, že jsou v komunikaci s nelidmi, jako např. s delfíny. (Klimo, 1991).
"Vyšší já" jako zdroj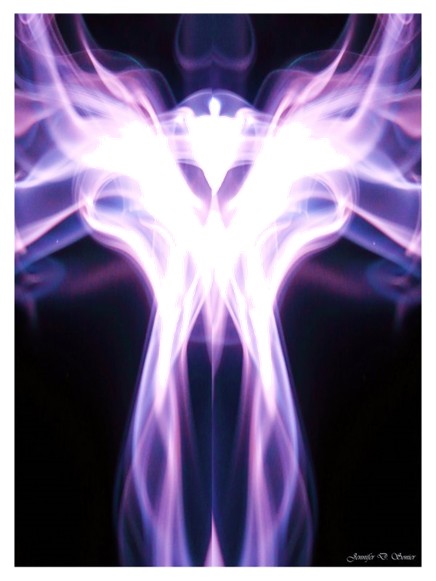 Superconscious (mind)
Emerson: Oversoul (19.st.)
F.W.H. Myers: subliminal self
William James: higher part
Brunton: overself
Nietche: Overman
Aurobindo: Overmind
Huxley, Jung, …: The "Self"
Křesťanská mystika: Duch svatý, New Age: Kristovo vědomí
(1994, Karen Husing "Defining the Higher Self: A Theoretical Model and Techniques")
V nás všech je vyšší muž… muž více nebeského postavení, skoro bůh, množící Boha. Když se duše znovu zabuduje, nepřijde k něčemu cizímu, ale k sobě samému.
Plótínos (205-270) Řecký filosof, novoplatónismus
Jak dochází k přenosu
Plný tranz (nevědomý)
Spánkový a snový channeling
Channeling při vědomí
Lehký tranz
Hypnóza, sebehypnóza, regresní terapie
Kreativní a intuitivní schopnosti

Co je skutečné a co není?
Nejjednodušší možností je nazvat channelery blázny, a víme přeci, jak studovat blázny, můžeme studovat patologické stavy a deziluze.

Nebo, jako alternativu, můžeme překonat sami sebe a říct, že věda je v určitém slova smyslu podezdřelá – lineární a povrchní, příliš positivistická….

Co si pro sebe navrhuji je toto: najít cestu jak se dívat na subjekt se zachováním vědecké integrity, a zároveň respektování celistvosti toho, co studuji. Přistoupit k tomu s otevřenou myslí, což má charakterizovat vědu, ačkoliv se tomu tak vždy neděje. Babbie dále sdílí optimismus ohledně samotného výsledku takového výzkumu – robustnější porozumění vědě, právě skrze takovéto studium channelingu.

Prof. Earl Robert Babbie, (Klimo, 1998, str. 238)
Vysvětlení podle různých názorů
Vysvětlení podle Rusella Chandlera
The entities are real and are telling the truth about themselves.
The entities are demonic and lie about their real nature.
The entities don't exist, and the channelers resort to fakery and/or acting to simulate their reality.
The entities' messages come from the intuitive, subconscious mind of the channeler.
The entities are the products of hallucinations and/or their messages are induced under a hypnotic state.
The entities are not objectively real but are a part of the "Higher Self" or what psychoanalyst Carl Jung called the "Collective Unconscious."
(1993) p 80 Undestanding New Age (http://www.ccel.us/newage.toc.html)
Co si myslí psycholog a expert na hypnózu Joseph Barber
"Perhaps they are pretending.Maybe trance channeling is a form of self-hypnosis. ... Anyone can learn to do it if you make up your mind to do it. … A person's wishes and beliefs and expectations play a big part."

(Klimo, 1991, citát od Joseph Barber, interview with author, Fullerton, Calif., 9 March 1988)
Holografický vesmír a Michael Talbot
To my great surprise--and slight annoyance--I found that Seth eloquently and lucidly articulated a view of reality that I had arrived at only after great effort and an extensive study of both paranormal phenomena and quantum physics.

(1988, Michael Talbot, Americký amatérský astronom a fyzik, 1953 - 1992, Beyond the Quantum)
Kritika channelingu od Sagana
Proč nedávají ověřitelné informace?
Channeleři si vymýšlejí hlasy a obsah channelingů je banální a slaboduché
Je to celé jen splněným přáním
Sestry Foxovy to hrály
Když pomineme v diskuzi poslední bod, ověřitelné informace chaneleři dávají také. Někdy však človek musí vystoupit z krabicového řešení striktního odmítání paranormální aktivity. Za druhé Sagan dělá ad hominem útok na všechny média, nebo channelery, ale nevyvrací skutečné procesy channelingu samotného.
Co mohl Sagan udělat v lepší kritice aneb jak zkoumat tento fenomén
Voice-machine analysis
EEG před a během tranzu
Prof. Ch. H. Hapgood – médium Elwood Babbitt – EEG a další proměnné se velmi lišily
Další fyziologické proměnné
Porovnání výrazů, různé použití jazyka, empirické
Prozkoumat a dát do korelace obsah od různých médií (např. John Sloan, Maurice Barbanell, Edgar Cayce), kteří se nezabývali triviálními informacemi
Témata channelingů
Obecné intuitivní pocity milující přítomnosti a podpory
Osobní informace a vedení
Podrobné popisy posmrtného života
Informace o minulosti a budoucnosti
Umělecký materiál (např. literatura, malby, hudba a skládání)
Léčení a lékařský materiál (např. E. Cayce)
Vědecké nebo technické informace (např. Ramanujan)
Shrnutí
Když už dochází k samotnému přenosu informací, děje se tak zdánlivě bez větší námahy, okamžitě a spontánně.
Samotná informace, nebo podle Hastingse vůbec samotná dovednost něco vytvořit, roste nad schopnosti média, které by mohl dosáhnout v normálním vědomém stavu. Častokrát jsou to přímo "geniální", nebo "nadpřirozené schopnosti"
Výsledek má pak často duchovní hodnotu, která nespadá pod žádné z náboženství a navrhuje reciproční propojení všeho života.
Vyvolávači nejsou psychotičtí, abnormální, nebo dysfunkční, aspoň ne více než běžná část populace.
(Více v Hastings, 1991; Schwartz, 2010)
Co když to jenom hraju? To mě dříve děsilo, protože jsem se bála, že tam byla nějaká část, má podvědomá část, která to vytváří. Moje odpověď na to je, když to je přímo ode mě, tak pak si myslím, že je to naprosto fantastické. A beru za to všechen kredit, který mi chtějí dát.
Penny Torres-Rubin - Mafu - interview pro Life Times magazín (podle Klimo)